In Memory
Bobby Silva - Class Of 1957
BOBBY WAS MEMORIALIZED WITH A PRIVATE FAMILY SERVICE SHORTLY AFTER HIS DEATH.
"REMEMBERING BOBBY"
Old number 44 left us today after a long and gallant fight,
His aches and pains were healed as he crossed into Heavens light.
His mind was as sharp as ever and his memory was still the best,
His joyful time on earth is over and he deserves his eternal rest.
"Mr. Muscles" of 1957, Ft. Sumner sports fan, and so much more;
Hero in a "North-South" football game when he ran for the only score.
He never knew a stranger and has friends scattered throughout the land,
Making friends wherever he traveled and always giving a helping hand.
I'm sure Heaven is a little noisier now as old memories are renewed,
And surely there will be cheering as his many touchdowns are reviewed.
He wanted no services, no fanfare, to celebrate his many years on earth,
And Chano and Lois can rejoice again, and celebrate their son's rebirth!
So, how do we honor our hero; and let the family know that we care?
Perhaps a "time capsule" of sorts, with stuff the family wants to share?
What to do with the "time capsule" and this idea is mine and mine alone!
FSHS Football Field, midnight, memorialized, buried in the south end zone!
Dale Burge, December, 2014
BOBBY SILVA WITH RICHARD KEEVER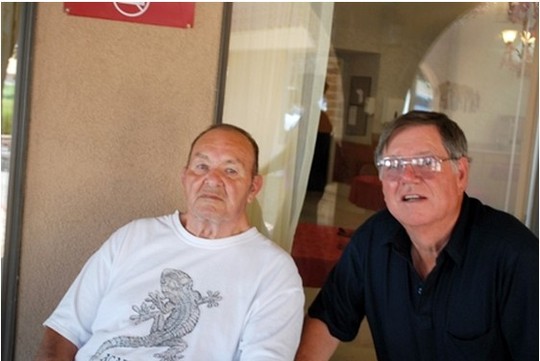 "Mr. Muscles, 1957"