In Memory
Crusita Griego (Sena) - Class Of 1963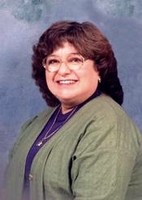 Crusita Ramona Sena, 66 of Clovis, NM died Friday, October 14, 2011 in Clovis. She was born December 23, 1944 in Fort Sumner to the home of Susano and Carolina (Lopez) Griego. She attended and graduated from Fort Sumner High School.
While in Fort Sumner Crusita worked for the Community Action Program.
She married Ramon F. Sena on June 6, 1969 in Fort Sumner. They made their home in Clovis in the early 70's.
Crusita was a home maker for many years and a stay at home mom to her son Daniel. She later worked for Levi Strauss, Leslies Candy Store, Cannon Air Force Dining Hall and at Wal Mart.
She was a member of Our Lady of Guadalupe Catholic Church in Clovis.
Crusita enjoyed knitting, gardening, caring for her chickens and dogs and recently she and Ramon enjoyed travelling. She especially loved being a grandmother and spending time with her granddaughter.
Crusita is preceded in death by her parents; two brothers Albaro Griego and Juan Griego and a sister in law Esther E. Griego.
Survivors include a granddaughter Jaslyn Sena of Clovis; three brothers Nick Griego and wife Jo of Fort Sumner; Sam Griego of Las Vegas, NM and Eddie Roybal and wife Irene of Las Vegas, NM; her mother in law Ramona Sena; aunts Louisa Gonzales and Eloisa Lopez, and a sister in law Charlotte Griego all of Fort Sumner. Also surviving are a host of other relatives and many friends.
Services will be held at St. Anthony Catholic Church in Fort Sumner, a Rosary will be recited at 7:00 PM Thursday, Oct. 20, 2011 and Mass will be held at 10:00 AM Friday, Oct. 21, 2011 with burial following at Fort Sumner Cemetery. Pallbearers will be her nephews, Kurt Griego, Nick Griego, Jerry Griego, Robb Griego, Johnny Griego, Jonathan Varela, Victor Rich, and Michael Paul Gallegos.
Memorial contributions may be made in memory of Ramon, Crusita and Daniel Sena, to the Fort Sumner Cemetery Association, P.O. Box 180, Fort Sumner, NM 88119.