In Memory
Evelyn Ruth Turpen (Morgan) - Class Of 1942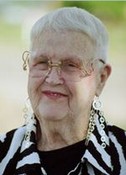 EVELYN RUTH TURPEN HARALSON MORGAN
Evelyn was born December 10, 1923 at Star, Grayson County, TX to the home of Lena Mae Cunningham Turpen and Gilford Melvin Turpen. She was one of five children born to this union. Evelyn passed away Friday, October 19, 2007 in Farwell, Texas she was 83.
Evelyn started school in New Deal, TX, in 1930, where her family farmed and survived the dustbowl of the 1930's, before moving to Fort Sumner, NM, in 1938. On November 27, 1941, she married Thomas C. Haralson, Sr., of Spur, TX. While Thomas was in Europe she returned to Lubbock to work at Dunlap's. After the war Thomas and Evelyn lived several years in Clovis before returning to Fort Sumner and living one year in Albuquerque.
Evelyn loved Fort Sumner and the people who shared her life. She was a member of the Fort Sumner Class of 1942 and a part of the group who started the De Baca County Ex-Student's Association; she took great joy in the years as a member of Beta Sigma Phi Sorority and was a member of the Fort Sumner Church of Christ. Evelyn worked as a bank teller for Citizens Bank in Fort Sumner for 27 years.
Evelyn is survived by her second husband, Donald C. Morgan, of Fort Sumner, NM, daughter Yolanda H. Cline and a son Thomas C. "Cub" Haralson, Jr. of Albuquerque, NM; five grandchildren Melinda R. Cline-Hazel, Cynthia L Cline Taibbi, G.T. Cline, Thomas C. Haralson III, Shane M. Haralson, five great-grandchildren; one adopted niece, Sherri Boyd of Belen, NM; two adopted nephews James Myers of Albuquerque and Bill L. Oldright of Orville, Alabama; two adopted granddaughters, Lisa Walraven and Mikilynn McRee of Fort Sumner, NM, many nieces, nephews and her best friend of sixty-nine years, Mary Margaret Flannery Fleming of Albuquerque.
Evelyn was preceded in death by her first husband Thomas C. Haralson, Sr., her son-in-law APD Officer Gerald E. Cline; a sister Gladys Turpen Holder; three brothers G.G. "Red" Turpen; Wm. Harvey "Fat" Turpen and Blueford N. "Blue" Turpen.
Visitation hours will be held on Wednesday and Thursday from 1PM to 6PM at the funeral home.
Funeral services will be held at 11:00 AM Friday, October 26, 2007, at the Fort Sumner Church of Christ. Burial will follow at Fort Sumner Cemetery. Pallbearers will be Charlie West, James Myers, G.T. Cline, Chris Morgan, Toby Turpen, and Kelley Haralson. Honorary bearers will be all her family and friends.