In Memory
Jim (Jimmy) Stephenson - Class Of 1956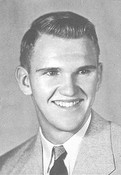 JIM STEPHENSON DIED AT HOME IN CLE ELUM, WASHINGTON, ON NOVEMBER 14, SURROUNDED BY HIS FAMILY, AFTER A FIERCE FIVE MONTH STRUGGLE WITH CANCER.
BORN APRIL 21, 1938 IN CLOVIS, HE GREW UP IN FORT SUMNER WHERE HIS FATHER, A.J. WAS THE TOWN BARBER AND HIS MOTHER, MADELINE "BUNCH", WAS A HOUSEWIFE. JIM WAS A STAR HIGH SCHOOL BASKETBALL PLAYER WITH THE FORT SUMNER FOXES, AND WAS ALSO ON THE FOOTBALL AND TRACK TEAMS. HE EARNED HIS UNDERGRADUATE DEGREE IN THREE AND A HALF YEARS FROM EASTERN NEW MEXICO UNIVERSITY PAYING HIS WAY THROUGH COLLEGE BY WORKING AS A DORM COUNSELOR AND WITH SAVINGS FROM 4-H, WHEN HE RAISED AND SOLD PRIZE-WINNING PIGS.
A LIFELONG EDUCATOR, JIM RETIRED AS A SCHOOL ADMINISTRATOR IN WASHINGTON STATE IN 2000. BEFORE THAT HE WORKED WITH CHILDREN IN FOSTER CARE IN OREGON FOR FOUR YEARS. HE ALSO DEVOTED 28 YEARS TO JEMEZ SPRINGS MUNICIPAL SCHOOLS IN NORTHERN NEW MEXICO WHERE HE WAS A HIGH SCHOOL TEACHER, THEN ASSISTANT PRINCIPAL, AND RETIRED AS SUPERINTENDENT IN 1987.
WHILE TEACHING AT JEMEZ SPRINGS HE EARNED GRADUATE DEGREES FROM EASTERN NEW MEXICO UNIVERSITY AND THE UNIVERSITY OF NEW MEXICO. HE WAS ACTIVE IN COMMUNITY AFFAIRS, SERVING AS OFFICER IN SEVERAL ORGANIZATIONS, INCLUDING PRESIDENT OF THE NEW MEXICO WILDLIFE FEDERATION.
SURVIVORS INCLUDE HIS WIFE CATHERINE; SON JIM JR. OF ELLENSBURG, WASHINGTON; DAUGHTER TISHA STEPHENSON OF YAKIMA, WASHINGTON; EIGHT GRANDCHILDREN; TWO GREAT GRANDCHILDREN, AND ONE SISTER; KAY DANIEL, OF CLOVIS.
CONDOLENCES MAY BE SENT TO THE FAMILY AT 830 MASTERSON ROAD, CLE ELUP, WASHINGTON 98922.
OBITUARY APPEARED IN THE DE BACA COUNTY NEWS ON DECEMBER 9TH.
WE APPRECIATE THE DE BACA COUNTY NEWS FOR PROVIDING IT.