In Memory
Gary Wayne Cook - Class Of 1962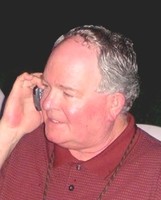 Gary Wayne Cook, 64, of Albuquerque, passed away on Thursday, March 5, 2009, surrounded by his family.
He is survived by his wife of 27 years, Jeri; four children, Seth Cook, M.D. and wife, Katrina of Lubbock, TX, Amber Brooks and husband, Brandon of Albuquerque, Paige Ware and husband, Bill of Amarillo, TX, and Zachary Cook and wife, Angie of Ruidoso; two grandchildren, Julia Schneider-Montgomery and Sydney Brooks; sister, Brenda Stockton of Portales; and niece, Kasey Stockton of Frisco, TX, and many other loving friends and family.
Gary was born in Joplin, Missouri, a son to the late R.J. Cook and Margeritte Bowlin Cook. He was raised in Ft. Sumner and graduated from Ft. Sumner High School, Class of 1962. He then attended Texas Tech University for one year, followed by Eastern New Mexico University, graduating in 1966. While at ENMU, Gary was a proud member of Sigma Alpha Epsilon Fraternity. After graduation, he worked for Chevron, USA before beginning his own business, Gary Cook Oil Company in 1974. In 2003, he and a longtime friend, John Petty, formed AA Properties, LLC, in Albuquerque. Gary was a former member of St. James Episcopal Church in Clovis, and was a member of The Cathedral of St. John in Albuquerque at the time of his death.?
A memorial service celebrating Gary's life will be held on Tuesday, March 10, 2009, 3:30 p.m., at The Cathedral of St. John, 318 Silver Ave SW. Following the service, a reception will be held at Albuquerque Country Club, 601 Laguna Blvd SW, at 5:00 p.m. In celebrating the Lenten Season, in lieu of flowers, the family suggests memorials to New Mexico Boys and Girls Ranches, P.O. Box 9, Belen, NM 87002.
THANKS TO LA NELDA OVERTON (STROHL) FOR PROVIDING THIS INFO!